just say chew-wow
if it's not a wow, it's not a chew-wow. our intent is to share joy with the world through delicious and unique chocolate experiences.
about us is about you
we're here to multiply the joy in your life, and we delight in engaging your senses with feel-good chocolate. together, let's make the world an even sweeter place.
responsibly sourced
our chocolate is fair trade certified, and we only partner with those who share our interest in quality ingredients, sustainable farming & ethical business practices.
award-winning
we use recipes in a kitchen, not formulas in a lab. our 8 sofi awards speak to our truly unique flavor profiles.
premium chocolate
our confections are crafted with a proprietary blend of ultra-premium chocolate, featuring the coveted flavor profile of Venezuelan cacao.
handcrafted in usa
our chocolate is handmade with close attention to each small batch in our carlsbad, ca joy factory. come visit us!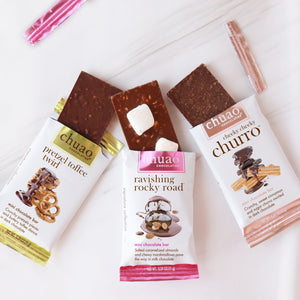 premium chocolate
we handcraft our chocolates with close attention to the quality of each small batch from start to finish. we use one-of-a-kind recipes in a kitchen, not formulas in a lab, and are committed to using fresh ingredients.
ethical sourcing
we believe that joy starts at the source, so we work solely with fair trade farms providing fair working conditions, compensation, education, and healthcare to the community.
award winning
we've beaten out thousands of entries to win 8 sofi awards over the years (think of them like the academy awards for food). we are so grateful to create products that inspire joy!
"the best part of Chuao chocolates is all the unique flavors they offer — potato chip and bacon are only the beginning. Also on the list is a chocolate bar with cinnamon and chile spices and one with breadcrumbs... we wish you the best of luck narrowing it down."